MGM: Timesaver: For Real! English in Everyday Situations (+ CD) - B1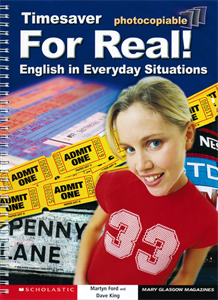 0/0
A wealth of  activities based on reading and listening realia.
Supports teachers presenting a 'Background to Britain' through a range of authentic and semi-authentic maps, menus, and street plans.The book presents real cities, real events, and real people.
The activities provide opportunities for discussions about Britain, and cross-cultural comparison, as well as providing some practical material for an eventual study tour trip to the UK.

Timesaver for Real! offers material which aids integrated skills development (with a focus on reading, listening and vocabulary) and revises specific structures in an enjoyable and meaningful way.

Examples of activities include:
Shopping at the CD megastore (music types, likes and dislikes)
TV listings (matching programmes to people profiles)
Contemporary Teenage Fiction (matching blurbs to covers)
Maps of Britain and Local Towns (jigsaw pair work).
Specificaties
Leermiddel , PROMOTIE Stockverkoop
Over deze reeks
Timesaver is a comprehensive range of photocopiable resource books for language teaching. The titles in this Timesaver catalogue provide hundreds of ready-made lessons for all levels, topics and age groups, and can be used in accordance with the Common European Framework of Referene for Languages (CEF).
They are ideal for supplementing coursebooks in class, for producing stand alone lessons or self-study tasks. All easy to use and requiring little teacher preparation time.
Free downloadable pages from all our titles are available at our website www.englishtimesavers.com.