MGM: Timesaver: Extracts 2 (+ CD) - C1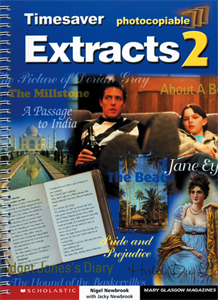 0/0
Level 5 - Voor de leerkracht - Language & Culture
This book provides 14 authentic extracts from modern and classical literature, each exploring a different theme, from the best of English authors and novels:
Bridget Jones' Diary by Helen Fielding
Pride and Prejudice by Jane Austen
About a Boy by Nick Hornby
The Time Machine by H G Wells
The Beach by Alex Garland
The Picture of Dorian Gray by Oscar Wilde
A Passage to India by E M Forster
The Secret Diary of Adrian Mole aged 13¾ by Sue Townsend
The Hound of the Baskervilles by Sir Arthur Conan Doyle
Hotel du Lac by Anita Brookner
Jane Eyre by Charlotte Bronte
Dombey and Son by Charles Dickens
The Millstone by Margaret Drabble
Captain Corelli's Mandolin by Louis de Bernières
Each extract is accompanied by useful background information on the authors and the context of their novels. The extracts are followed by two photocopiable exercises and include a wide variety of language practice, such as reading comprehension, vocabulary exercises, discussion activities, role-play, and composition topics, gap fill exercises, and develops reading skills, summary techniques and stylistic appreciation for the Cambridge CAE and CPE examinations.
All the extracts are read aloud on the accompanying audio component.
Specificaties
Leermiddel , PROMOTIE Stockverkoop
Over deze reeks
Timesaver is a comprehensive range of photocopiable resource books for language teaching. The titles in this Timesaver catalogue provide hundreds of ready-made lessons for all levels, topics and age groups, and can be used in accordance with the Common European Framework of Referene for Languages (CEF).
They are ideal for supplementing coursebooks in class, for producing stand alone lessons or self-study tasks. All easy to use and requiring little teacher preparation time.
Free downloadable pages from all our titles are available at our website www.englishtimesavers.com.